During the centuries that has passed since the original Celtic festival evolved into modern Halloween, the color black has played a major role in its celebration. Back in the old pagan days, the event occurred around huge bonfires and celebrants arrived for the festivities wearing black. The Celtic bash was a day for honoring clan ancestors and black was the color of mourning that everyone wore to do this.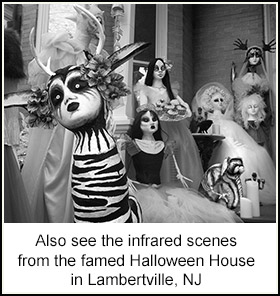 Today, black is everywhere across the Halloween front lawn landscapes in the fabrics that make up the costumes of the witches, spiders, bats, zombies and other rubber and plastic creatures that suddenly take over the front grass every October. Target Stores even have a category of "Black Halloween Decorations." Party City sells tons of its "Black Halloween Creepy Coth" for draping across so many home horror scenes. Black, black, black, everywhere. But what if we turned it all white?
Inverting Halloween black and white
I had that thought a couple years ago when I was shooting halloween street scenes but was not really satisfied with what I was getting. Over the last two decades as Halloween blossomed into a major commercial home decoration event to rival Christmas, it has focused on lavish lawn displays that frequently look boringly the same up and down every street. I was trying to find a different approach to photographing this stuff and I finally did with black and white infrared photography.
Infrared photography is curious in how it turns many black fabrics and living grass and foliage pure white. It similarly turns the sky very dark. The overall result can be very other-worldly images. These are some of the Halloween infrared images I captured around Camden County, NJ during my 2020 wanderings.