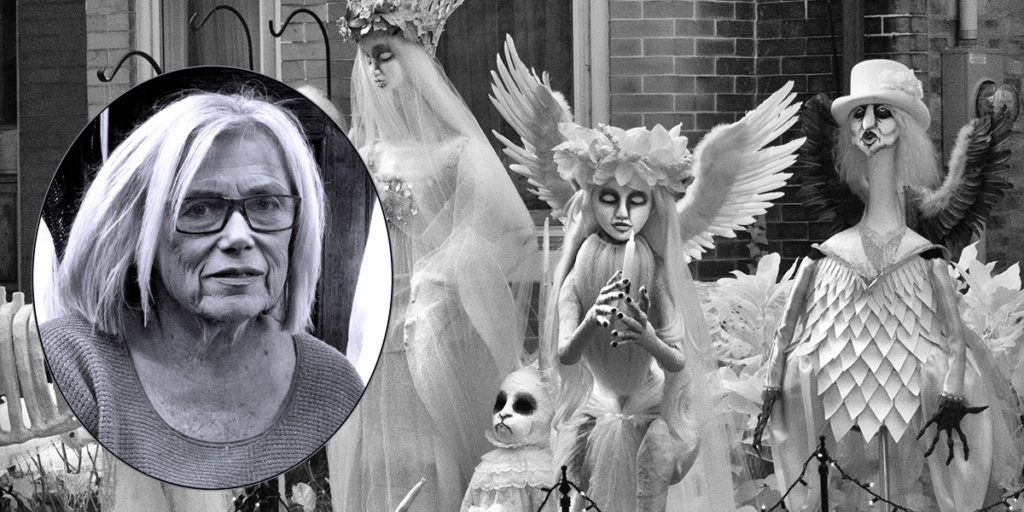 One of the things that makes the annual Halloween display created by Lambertville artist Dolores Dragan so unusual is that while macabre in a Tim Burton kind of way, it's not gory. There are none of the severed rubber limbs or fake splattered blood that characterize so much of Halloween decorations elsewhere. The other thing about her work is the variety and museum-quality of the art itself. Dragan began creating her strange creatures back in the late 1990s as an art teacher in the local Lambertville school. By 2000, she had so many of them her porch in the 100 block of North Union Street, they began to overflow into her yard and then adjacent yards. Over the last twenty years, this display has become a landmark driving a broader Halloweenization of the entire street that helped create the national reputation of Lambertville as a center of Halloween celebration. Over the last several years, I've photographed her creations in infrared black and white because I thought the starker nature of that imaging technique was so resonant with the art itself. Below are images from the Dragan house.
2022 Halloween Update
After a two-year pandemic hiatus, Dolores Dragan's 2022 front yard Halloween display is back with a vengeance on Union Street in Lambertville, NJ. She's added many new things and, interestingly, not all of them are strictly horror creatures. The first six images below show some of the new October 2022 figures on display. The rest of the images on this page are from previous years of Dragan's displays.
Below are Dragan creations from previous years