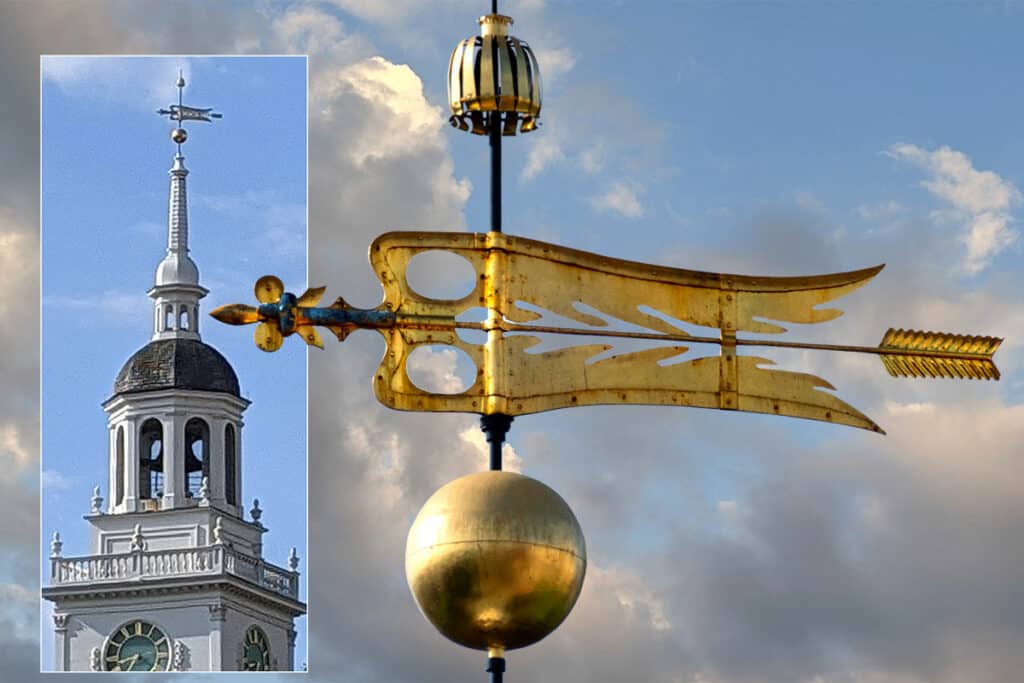 One of the country's most impressive weathervanes has perched atop Philadelphia's Independence Hall for two centuries or more (above). The massive, gold-leafed device is 12 feet long and weighs 120 pounds. The building was completed in 1753 as the Pennsylvania State House and later renamed Independence Hall. Some modern references say the weathervane was installed as part of an 1828 renovation of the structure, but period illustrations from 1752 and 1800 appear to show the weathervane in place much earlier.
Aside from early American life's other major sources of power — falling water and draft animals — wind was the driving force of large sections of the economy. It was a free and renewable source of power. The fleets of military and commercial seagoing vessels — and every other business connected to them — were utterly dependent on wind. The windmills that pumped water made farming possible. They played a crucial role drying crops like corn and wheat to prevent spoilage. They also ground grain into flour to make the food society needed. Wind-driven saw mills cut and shaped the primary building material — lumber. Wind was a core economic force that directly supported huge numbers of jobs. It also provided clues important for predicting the near- and long-term weather. Some public clocks were powered by wind. For all these reasons, the presence, absence, velocity, and direction of the wind were major concerns in the daily life of that era. That's what made weathervanes such important information instruments.
By the mid-19th century, steam and coal were surpassing water and wind as primary source of industrial energy and weathervanes began their transformation from crucial industrial devices to the decorative and often highly valuable art form they remain today.
Most Valuable Weathervanes
The most expensive antique weathervane ever sold is a 62″ high Indian chief weathervane made by J.L. Mott Iron Works. It was sold at Sotheby's in New York City in 2006 for $5.84 million. A five-foot-long copper train weathervane that spent a century catching wind atop the Woonsocket train station in Rhode Island sold at auction for $1.2 million. A three-foot-long copper 1910 touring car weathervane made by the W. A. Snow Works in Boston went at auction for $941,000.
Below are samples of some of the more noteworthy weathervanes I've encountered and photographed that are still in use or in private collections.