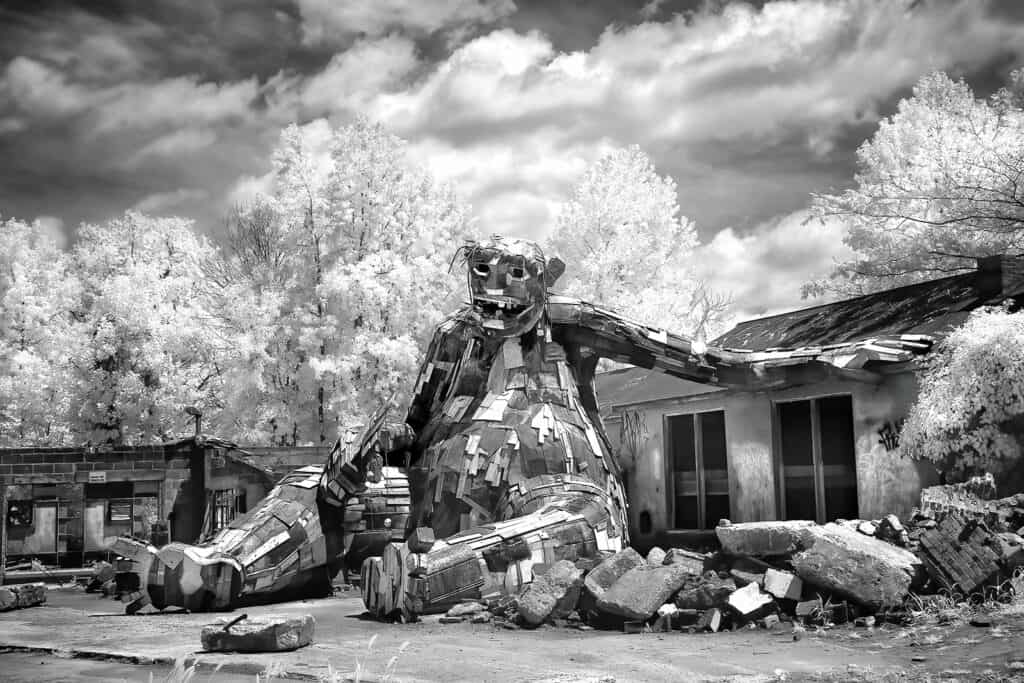 In his latest gigantic troll sculpture made from junk and recycled materials, Thomas Dambo has erected a 20-foot-high creature named "Big Rusty" at an abandoned pottery factory in Burlington County, New Jersey. The Denmark artist and a dozen workers and volunteers assembled the massive figure amidst the wreckage of the former Creek Turn Ceramic Supply factory located at the intersection of the Rancocas Creek and Route 38 in Hainesport.
The massive sculpture is the first in what Dambo plans as a string of troll sculptures at locations in Vermont, Michigan, Colorado, Oregon, and Washington State that are part of a campaign using entertaining and educational artworks to underscore and promote the issues of sustainability and environmental consciousness.
Big Rusty and his soon-to-be fellow trolls are also part of the "Way of the Bird King" narrative storyline Dambo has developed as a central part of the overall campaign promotion. Much famed in Europe for the more than 100 troll sites he's created in arboretums, botanical gardens, and public park woodlands, the 43-year-old artist and environmental activist also has completed installations at several other U.S. sites. One of those is the Coastal Main Botanical Gardens where his "Guardians of the Seeds" troll sculptures are scattered throughout a dense forest and connected by hiking trails.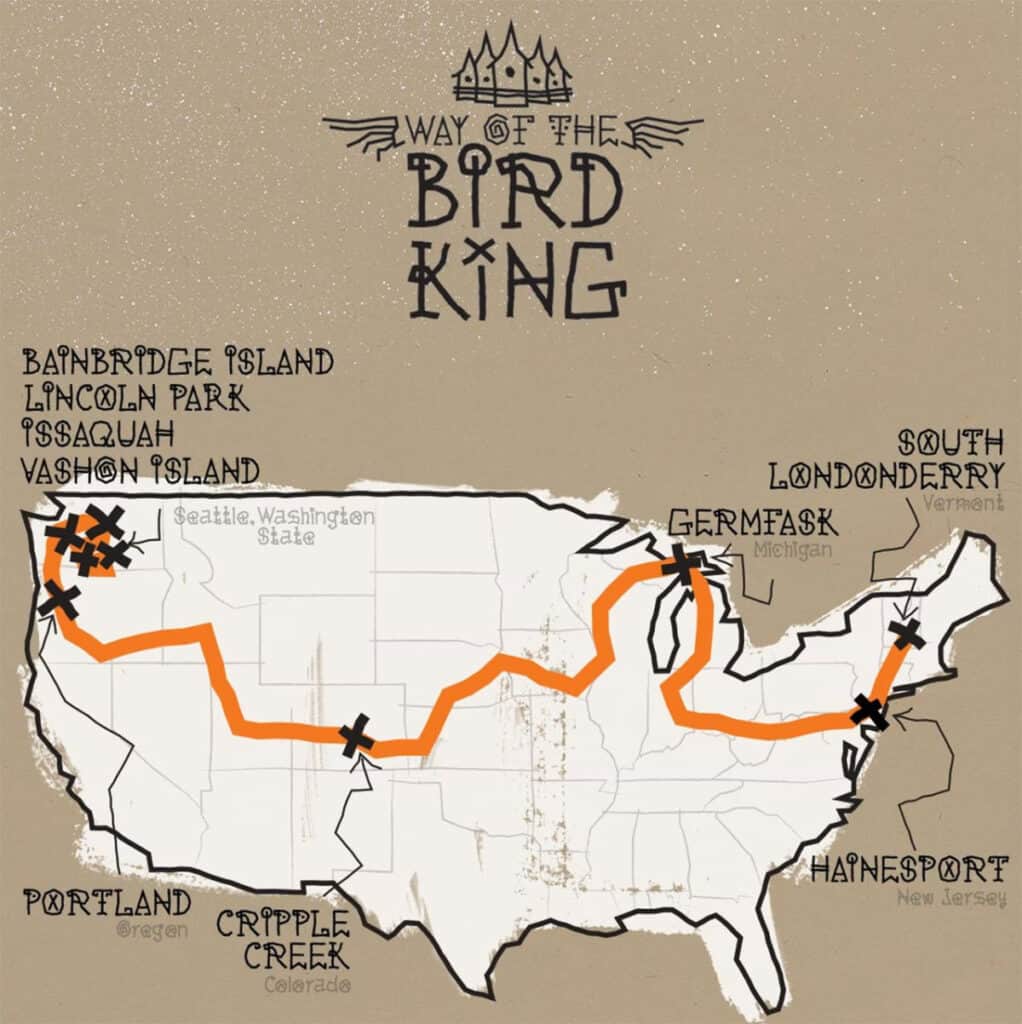 Dambo grew up in Odense, a Danish city that traces its origins to the stone age, is surrounded by Viking ruins, and whose culture celebrates trolls and other ancient Nordic myths. After earning his master's degree in interactive design at Denmark's Kolding Design School, Dambo focused on using recycled materials for his artworks. In the decades since, his focus on a mixture of environmental advocacy and troll art has earned him international acclaim.
Trolls are mythical creatures deeply rooted in the ancient folklore of the countries of Northern Europe. They tend to be ungainly humanoid beings with somewhat grotesque features who dwell in the forest, living in harmony with natural forces. In Denmark the Good Luck Troll is a beloved central figure of many childhood stories and movies. Troll Museums and Troll Forest tours are a staple of the Danish tourist industry.
At the heavily wooded Hainesport site of Dambo's latest creation, his team used recycled wood and other materials scavenged from the deteriorated pottery factory to create an obese trash troll. The message is that this troll will continue to grow and expand without limit because humans continue to generate such enormous quantities of trash.
The abandoned factory and its owner were themselves once renowned for the art ceramics they produced and the glazes they invented. Herman Kleiner established the studio and factory in the 1927. It sat in the middle of 28 acres of Rancocas riverside woodlands. He kept it running with about 100 employees until his death in 1993. The company's name — Creek Turn Ceramic Supply — was a reference to the nearby bend in the Rancocas.
In 2017, the Township of Hainesport purchased the property and its heavily vandalized and graffitied buildings with plans to develop the tract as a riverside park. Township workers have recently begun cleanup operations as Dambo's troll installation took shape.