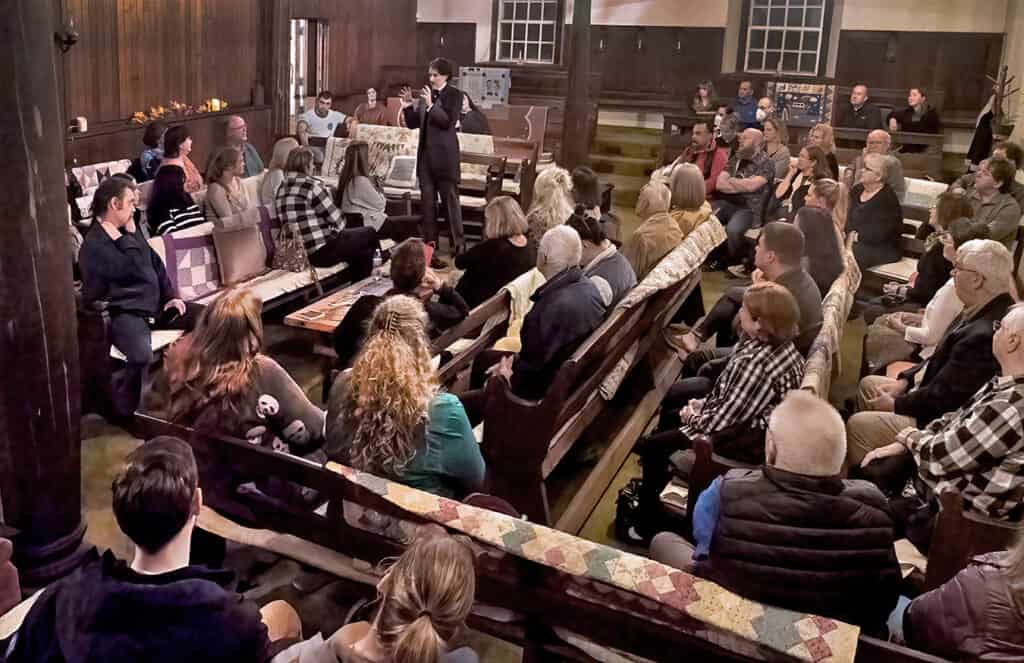 Resurrected by Haddon Township actress Helen McKenna-Uff, a retired interpretive ranger from the U.S. Park Service's Edgar Allan Poe Historical Site, Edgar Allan Poe gave an October 17 Halloween performance that packed Woodbury's Friends Meetinghouse. The event was part of the Gloucester Country Historical Society's programming for the spookiest month of the year.
It took place at the historic Quaker meetinghouse on North Broad Street, a 308-year-old structure built 60 years before the outbreak of the American Revolutionary war. A dimly lit space of massive hand-hewn beams, stark pews, and wooden surfaces rounded and smoothed from centuries of human contact, the atmosphere sharply heightened the sense of the evening's eerie event.
Transforming into Poe
"This venue is just wonderful with such a sense of vintage architecture and deep history about it," said McKenna-Uff as she picked here and there at her costume and hair, finalizing her amazingly authentic transformation before taking the stage.
When it was over, her 90-minute performance drew a rousing standing ovation. "I think we were all blown away with how real and compelling this performance was," said Historical Society President James Scythes as he circulated through the buzzing crowd. "McKenna-Uff was simply spellbinding as Poe."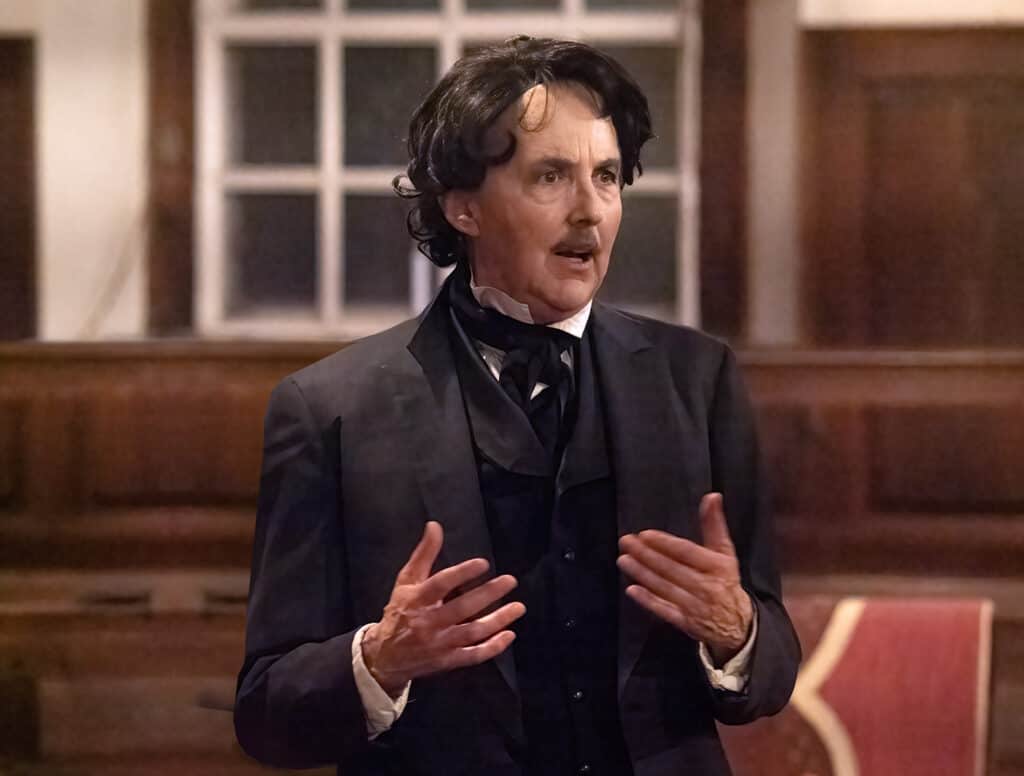 The plot line of her theatrical performance is based on the concept that, though he died in 1849, Poe's spirit comes back to temporarily inhabit another person's body through which he regales audiences with the famous poems and short stories that had such influence on the development of American literature in the early 19th century.
McKenna-Uff, who has been performing Poe professionally for 24 years, has had a lifelong fascination with the author — a fact underscored by the night's unique event. One of the audience members was Beth Lucia of Laurel Springs, the fellow student at Holy Cross High School in Delran who first suggested to McKenna that she use a monologue from Poe's work for an acting class assignment. Lucia typed up the text of Poe's "The Raven" for her friend. That document served as both a successful class monologue and the trigger that began McKenna's career obsession with the famed poet and author.
Reciting 'The Raven' Thousands of Times
"'The Raven' was the first Poe thing I ever memorized, and I have recited it on stage thousands of times, but I still find new nuances in it," said McKenna-Uff. "It's amazing to me that I've done this as many times as I have and still get excited about it." Her Woodbury performance was one of eight she had booked across the Mid-Atlantic region during October.
In the 1990s, McKenna-Uff became a volunteer at the National Park Service's Poe Historical site, performing small sections of his work for visiting tourists.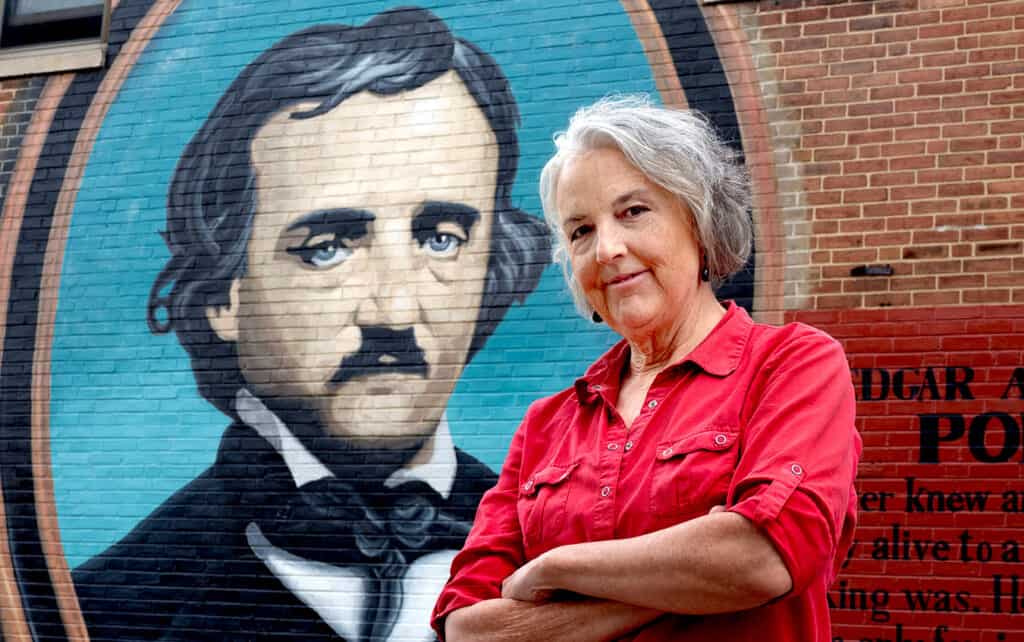 "In 1999, we were approaching the 150th anniversary of Poe's death when I was getting my degree in literature at Rutgers University," she remembered. "I took a playwriting class proposing that I write a one-woman show about Helen Whitman, a poetess from Providence, Rhode Island, with whom Poe was romantically involved with late in his life. She had been engaged to Poe and was intellectually his match before they broke it off. I hired Bruce Curless, the Producing Artist Director of the Ritz Theater in Haddon Township to be my director. He suggested that I portray Helen in the first act and Poe in the second. It was like a crazy dream. I couldn't believe it. The performance was called "Edgar and Helen" and took place in the Ritz Theater. That was the first time I was on a real stage with a real audience at Poe — I just kept going after that."
The Real Edgar Allan Poe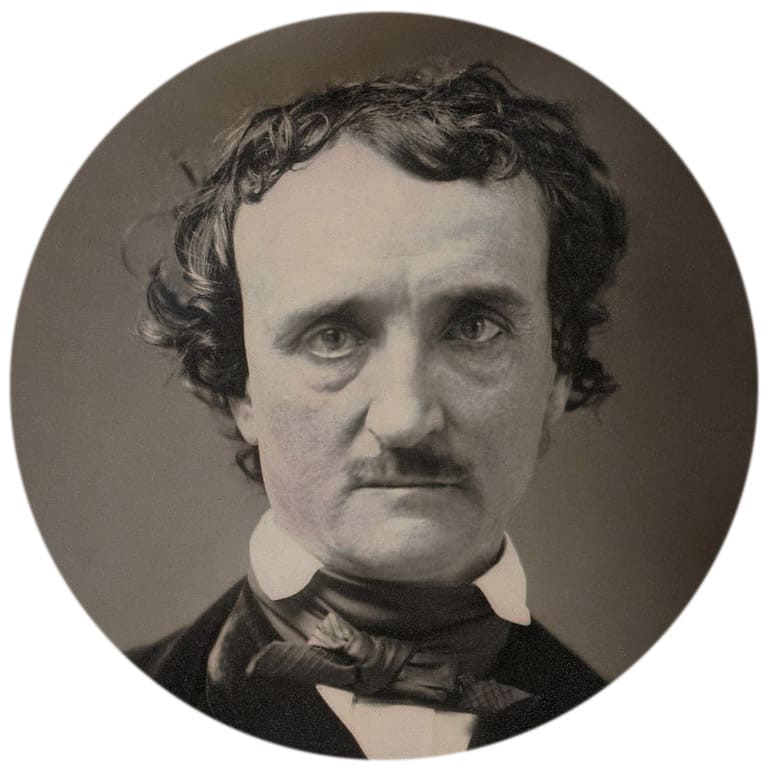 The real Edgar Allan Poe was brilliantly creative, emotionally erratic, and psychologically tortured in a way that provided him with the uniquely dark, macabre themes around which he spun the writing that made him a literary great. At a time in the first half of the 19th century, when American literature was expanding rapidly and defining itself as a separate field from that of European literature, he was a leading light. Poe significantly changed the form of poetry and the structure of American narrative craft. He pioneered the genre of the modern short story, invented detective fiction, created some of the first science fiction works, and stretched the limits of how psychological and supernatural elements could be woven into narrative plots in shocking ways that excited his audiences as other literature never had.
His personal life was not a happy one. His mother died, making him an orphan at two. The mother of the family that adopted him died when he was a teenager. Poe's childhood sweetheart and fiancée broke off their years-long relationship and he married his 13-year-old cousin, who died 11 years later of a withering disease. His romantic relationship with fellow poet Helen Whitman ultimately fell apart. Many of his renowned works were stories of mourning idolized dead women — "Annabel Lee," "Ulalume," "For Annie," "Eulalie," and more. Even "The Raven" was about the loss of the beloved Lenore.
Poe's work was highly controversial even among those who acknowledged its monumental significance. Nathaniel Hawthorne agreed Poe was a genius but felt "his genius is a diseased one." Jules Verne was so impressed by Poe's novels he wrote one of his own that continued one of Poe's stories. Herman Melville wrote that Poe, "has gone to lie down in the dust with Shakespeare and [John] Milton and has not despaired of immortality, nor shall not." Arthur Conan Doyle acknowledged Poe's influence in his own creation of Sherlock Homes. And T.S. Eliot praised Poe's poem, "The Bells," for its musicality, describing it as a work of "exquisite artistry."
A Century Later
A century later, the tendrils of that poetic artistry entwined fourth-grader Helen McKenna in Saint Charles Borromeo elementary school in Cinnaminson, New Jersey. The nun teaching the class recited several opening stanzas of the poem that were about tinkling silver bells, crystalline winter scenes, and "the world of merriment that their melody foretells" the girl couldn't forget. "That was my first exposure to Poe," McKenna-Uff recalled with a smile. "But I didn't discover what that poem was really about until I was in high school, when Beth turned me on to "The Raven" and I went on to "Bells" and other Poe poems."
"The Bells" is a four-part tone poem that begins with the joyous sound of silver bells in holiday scenes before descending through different kinds of bells into madness at the end as "ghouls" dance and yell in dank towers to the "moaning and groaning" of rusted iron bells.